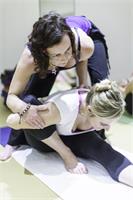 Saturday 8th February 2.30 -4.30 pm @ the Secret Space
£30 / £25 before the 30thJanuary

One of the most common problems we see in forward bending Asanas is that students round their Spine. This can put much pressure on the lower back and causes the shoulders to hunch. Ideally the Spine stays long and there should be no compression of the vertebrae. The main reasons why this is difficult for people are tight hamstrings, tight hips and a tight back. There may also be weakness in the front of the body.

In this workshop we will look at the alignment principles of forward bends and explore ways to lengthen the back of the body and strengthen the front of the body in preparation for our forward bending Asanas. We will look at how to help common issues such as tight hamstring and back problems. We will then explore the practice of different forward bending Asanas and look at appropriate modifications for the group.

The session will end with some restorative forward bends, using props so that we can find steadiness and comfort and feel the quieting the effects of the Asanas.

This workshop is open to all levels.